Price without VAT
SeaLion Europe 275N Crew Lifejacket
SeaLion Europe Crew is a flexible lifejacket specifically designed for operational pilots and crew. It is certified for use together with our SeaAir CA EBS that is integrated by means a removable hip/back pocket that can be positioned so it does not interfere with operating the helicopter. (SeaAir CA EBS is purchased separately). This lifejacket is also designed for use together with our SeaAir Europe Pilot suit. Together the suit and lifejacket form complete safety concept for offshore helicopter pilots and flight crew.
The lifejacket has a modern, slim and easy to wear design with Cat A compressed air EBS integrated in side / back pocket
Prepared for integration of Cat A EBS (SeaAir EBS), approved by CAA-UK in accordance with CAP 1034
Please note: SeaAir EBS is delivered separately
300N buoyancy lifejacket lung
Manually activated 60g CO₂-cylinder
Main buckle i stainless steel,  with simple adjustment for various body sizes
The vest is attached to a back yoke that provides a very good offloading back and shoulders - a vest that can be used for hours
Molle-system for flexible attachment of SeaAir EBS on the side/back
Sprayhood, crotch strap, water activated emergency light and whistle
Helicopter Pilot lifejacket with integrated compressed air EBS approved by CAA-UK
Comfortable, snug fit with easy access to Emergency Breathing System
SeaLion Europe Pilot is specifically designed for pilot use and flexibility in daily operations
Approved with state-of-the-art compressed air EBS, SeaAir EBS
The lifejacket is designed to work in conjunction with SeaAir Europe Pilot/ HP ETSO Suit
The concept consisting of CA EBS, Suit and Lifejacket forms a complete safety system for helicopter crew flying offshore
Certified to EASA ETSO 2C504; - and for integration with SeaAir EBS to CAA-UK CAP 1034
Product details
Special development for pilots and flight crew
SeaLion Europe Pilot is developed in close cooperation with pilots and fligh crew for optimal functionality and flexibility daily operations. The lifejacket is equipped with a neat and well working molle-system for mounting of the EBS where it suit the user best. SeaLion Europe Pilot is compatible with our unique suit concept for pilots and flight crew; SeaAir Europe Pilot.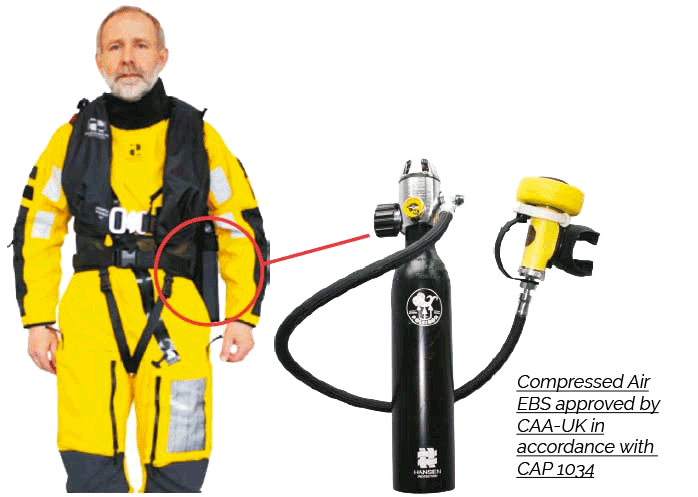 SeaAir CA EBS Emergency Breathing System
Its capability to withstand freezing temperatures, a design that enables breathing to start under water, its unique nose clip and are all factors that combined have resulted in CAA-UK approval for SeaAir CA EBS for use in helicopter over water flights.
Lifejacket

Helicopter

Area of application

Helicopter Crew

Buoyancy

Minimum 275N

Material

Polyester

Adjustments

Waist

Fit / Ergonomics

Ergonomic

Colour

990 Black

Reflective material

IMO Solas

Pockets

Separate pocket for mounting of SeaAir EBS on back/side (ordered separately)

Bladder construction

Symmetrical

Inflator mechanism/operating head

Manual, UML Micro

Sprayhood

Yes

PLB

None

Buddy line

Yes

Whistle

Yes

Safety Harness

No

Buckle

Stainless steel with quick release functionality

Cover closure

Zipper with Quick Burst functionality

Compatibility

Yes, ETSO with ETSO suit

CO₂-cylinder(s)

60g CO₂ (1 pc)

Service interval (standard)

1 year

Certifications ETSO

ETSO 2C504 (Helicopter lifejacket)

Crotch strap

Double
From one of the world's foremost developers and manufacturers of survival equipment
Hansen Protection has been a pioneer in safety at sea since we launched kapok lifejackets in 1932.
Our current range continues the company's strong traditions, where our greatest concern is to ensure optimal functionality and performance for all types of work at sea.
A first class survival suit can mean the difference between life and death.
As one of the world's foremost developers and manufacturers of survival equipment, Hansen Protection can offer a wide collection of survival suits. Survival can never be guaranteed, but we can guarantee that our survival suits satisfy the highest demands for safety.
Survival suits are obligatory for personnel on oil rigs, passenger ferries, merchant and fishing fleets plus in offshore helicopter transport.
Our dry suits provide sufficient buoyancy and protect against heat loss, and thus increase the survival time in cold water. All suits are tested and approved according to the strictest national and international standards.