Norwegian Society for Sea Rescue
When the storm hits you at sea. When you are in need. When it is a matter of seconds. Our sea rescuers will set out with only one goal in mind: To save lives.
Saving lives is the core of everything we do in Redningsselskapet. It has been that way ever since our first rescue boat were launched in 1893.
None shall drown
Over 125 years later we are proud to have saved over 6,400 lives. Every year we teach 30,000 children and young people good boating skills and seamanship. But we are far from reaching our goal. Annually over 100 people drown in Norway. Globally 400 000 people drown every year.
SeaSwim MSAD II was designed in close cooperation with NSSR, the Norwegian Society for Sea Rescue and ther SAR personnel represented with Matt Skuse. The suit is specially intended for surface swimmers and shallow water divers. It has a slim fit, which means there is little air in the suit, still providing full freedom of movement. In addition to conventional neck closures, we offer an innovative, adjustable neck seal which offer easier entry, good ventilation and maximum comfort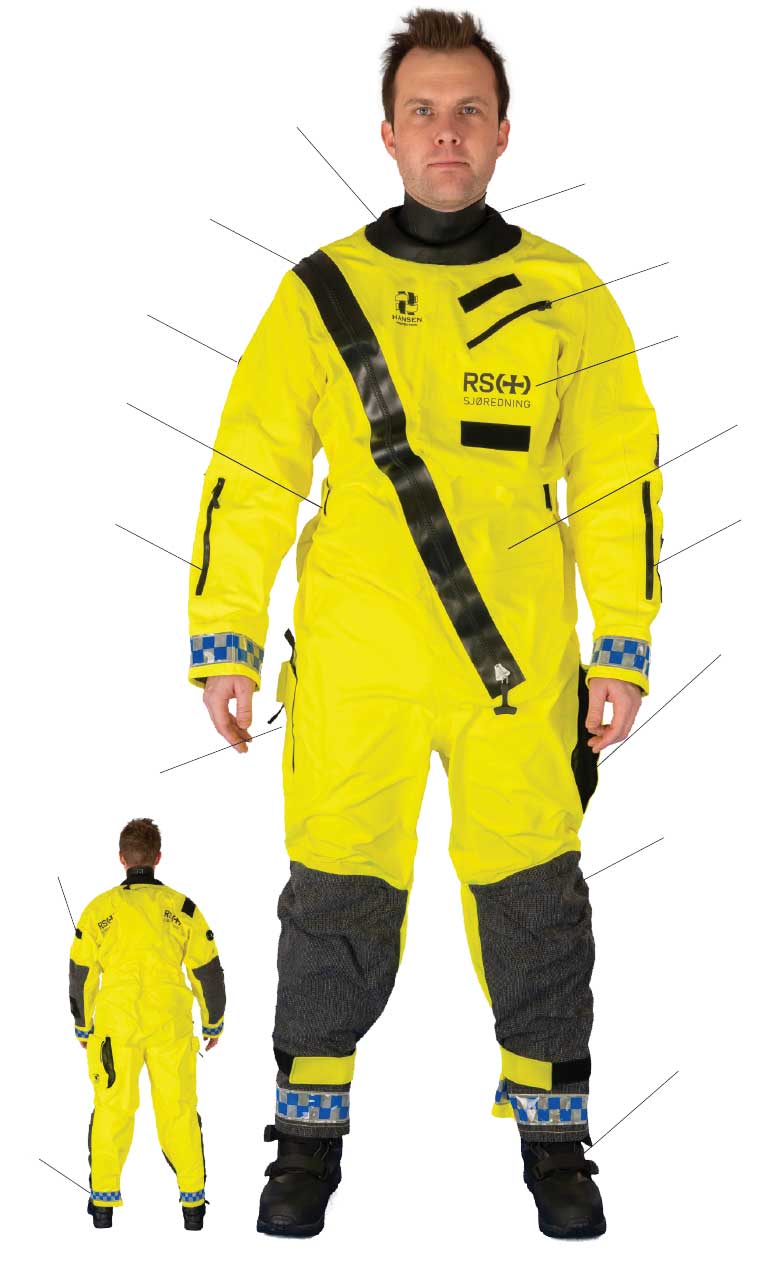 Breathable GoreTex Pazifik
Area to print company logo
«The 6 last years Hansen Protection have been the supplier of life jackets for our crew and our sales of life jackets to the leisure market. Hansen Protection have the experience and capability and listened to our needs when developing a new work suit/dry suit for the crew on our 54 SAR boats. The result is a product we are proud to wear and a product we can highly recommend to other SAR personnel»
Matt Skuse, NSSR
SeaLion Rescue 275N Auto
A high-quality inflatable lifejacket designed for comfort and safety, and incorporates a new asymmetric bladder to ensure safe turning in rough sea. This lifejacket is designed for use by the rescue team of the Norwegian Society for Sea Rescue (NSSR). The lifejacket is equipped with D-rings both on the chest and back.  The D-ring on the back allows attachment of the user with a safety line to perform salvage work in a safe position over the ships side. According to users, the lifejacket is very comfortable to wear over long periods of time. The lifejacket has neoprene around the neck and crotch straps for increased safety. It is a single chamber lifejacket with app 300N buoyancy and is certified in accordance with ISO 12402-2 (275N).
Northern Diver Seahawk
Great all-round protection. Suitable for white water and swift water rescue. The shell drops below the ear for extra protection and helmet stability. The split-mould injection process creates a very rigid shell and an ergonomic "negative draft" shape that follows the natural curves of the head, protecting the forehead and base of the cranium. Twist lock adjustment for easy adjustment to your size.
Kask Plasma HiVis
Protective helmet with reflective patches for all-day use, approved according to EN 397. Helmet shell in polypropylene (PP). Special High Density polystyrene foam padding between helmet shell and interior. Soft, padded nylon interior. 10 air intakes ensure maximum ventilation. The inlets are equipped with fine mesh to prevent ingress of debris. Equipped with headlamp clips suitable for all headlamps with elastic/adjustable straps. Comes with 4-point adjustable chin strap mounted to the helmet shell. The chin strap loosens automatically at a load of between 15 and 25 kg according to. norm. Sanitized® treated 2DRY fast-drying textile material in interior decoration / sweatband, which prevents bad odors and provides increased comfort. Interior with rear micrometrical wheel adjustment, easy to adjust the size even with gloves. Weight only 397 grams.
Sizes 51-63